---
Office Ergonomics
Office ergonomics not only means a comfortable and properly adjusted chair. It also stands for the overall approach that allows people to adjust office tools and devices to their physical and mental capacities. Our bodies are meant to be in constant motion. We cannot be creative and productive while spending 8 hours in one place. So how should you encourage your employees to use the whole office space? How should you arrange the work environment so that it supports your employees' health?
Challenges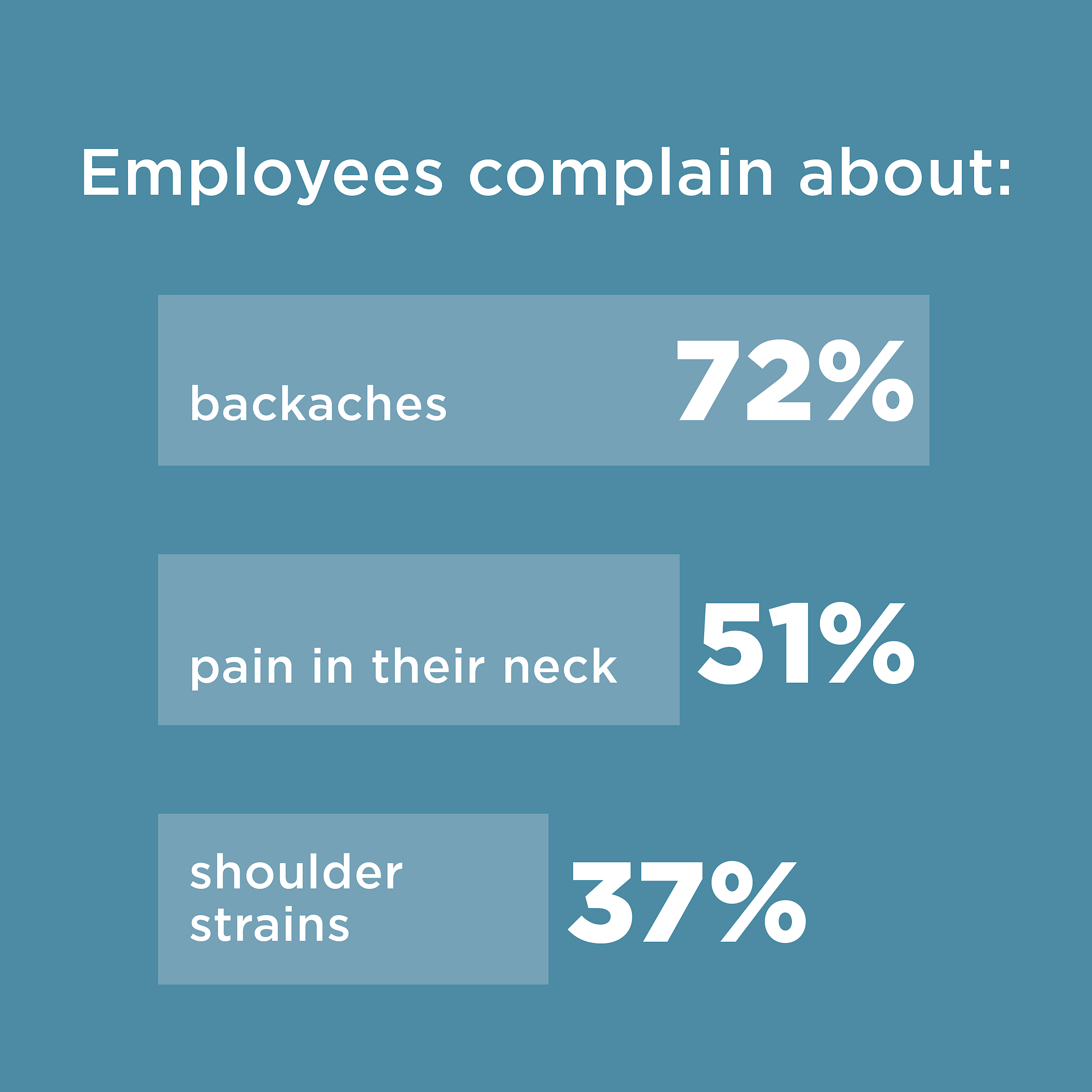 What happens to our body when we sit?
Vertebrae pressing discs. The level of fat burning enzymes lower by up to 90%. Disturbed metabolism.
Arms
-Wrist complaints
-Pain in shoulders
Spine
-Rounded back
-Pain in the lumbar region
-RSI chronic overloading of muscles and tendons
-Vertebrae pressing discs
Digestion issues
-Disturbed metabolism, obesity, bad cholesterol
-The level of fat burning enzymes lower by up to 90%
Blood system
-High blood pressure, circulation problems
-Legs oedema and varicose veins, development of heart diseases
Respiratory system
-reduction of lung capacity
-shallow and ineffective breathing resulting from the abnormal body posture
Pain in muscles, neck, jaw and face
-Repetitive Strain Injury (RSI)
-Costen's syndrome
Eyes
-computer vision syndrome (burning, tearing, headache and decreased concentration)
-worse sight
Chronic stress
-muscle tension
-headaches
-concentration problems
-difficulty in making decisions
-depression
As many as 80% of employees claim that a company's strategy for employee well-being will be a factor in determining whether they will join and stay at a particular organisation for the next 10 years.* The type of office equipment and the method of office arrangement have a huge influence on employees' work comfort: the temperature and air quality of an interior, good acoustic properties, and lighting that varies in intensity depending on the time of day. How can you take care of all these aspects to reduce employee turnover?
* CBRE, Wellness – poznaj biurową przyszłość, 2017.
Anna Marszałek
Senior Workplace Research and Spaceplanning Consultant
Healthier work
The sedentary lifestyle that comes with our modern-day life concerns all people. We spend more than 13 hours per day sitting still. And we relax in a passive way. Sitting still negatively impacts our health. I think we should be aware that we need to exercise. We should remember that working out after work is not enough. We should break up with our sitting positions in the office. We've got to move, people!
Daan Drenth
Ergonomics advisor
Ergonomic solutions
Office chairs are being equipped with more and more advanced mechanisms that allow the user to lean backwards on the backrest or ensure micro movements of the user's pelvis, hips, torso, shoulders and neck. The user's spine is supported solidly at every moment, even when the user changes their body position. The so-called dynamic support allows the user to release their tensed muscles and minimise the risk of injury. Moreover, the chairs are designed so that they can match the natural curves of the human body and reduce the unnecessary pressures, e.g. below the user's knees.
Xilium
Xilium is more than just an office chair. It is the partner of your success and a safe investment because of its functionality and durability. Xilium is also a work tool you can use to raise the comfort of your employees fast and simple. Because a non-ergonomic chair is among the five most often indicated drawbacks of modern offices.
Learn More
Desks with height adjustment are simple solutions that can improve work comfort significantly. They allow the user to change their body position frequently, regardless of the type of task that is performed at a given moment. Particular models differ in terms of functionality and the scope of adjustment possibilities. We encourage you to discover our solutions and choose those you consider the best for your organisation.
eUP
Our bodies have not been designed to sit all day, this is why it is very important that we change our position while at work. Meet eUP desks and find a healthier way to spend your day in the office.
Learn More
Work styles have changed a lot. It is important to us to make sure an office follows the latest trends, supports employees in performing various tasks, and provides them with a healthy and friendly work environment. Nowadays people carry out many tasks in a team. They often need quick consultations and come up with brilliant ideas during informal meetings. An office with long desk rows does not offer enough space for these activities. It is also worth providing employees with an interestingly arranged office space – equipped with sofas that have high walls where they can isolate themselves from undesired stimuli, places designed for teleconferences, rooms with pouffes for creative meetings, silent rooms, fun rooms, or spacious canteens where they can recharge their batteries and get to know their colleagues better. These solutions not only increase a team's efficiency and engagement, but also allow employees to change their body position and take care of their spine.
The current technology allows us to use the right mechanisms that help us take care of users' health. For instance, the S-MOVE mechanism enables the user to move their body smoothly and naturally in three different dimensions. Our patented GLIDE-TEC mechanism supports the user's back in changing its shape – from straight to rounded – while the divided Duo-Back backrest follows the user's back movements and provides support to the spine-surrounding muscles, without putting any pressure on the vertebrae and intervertebral discs. It is also important to mention that one office chair is often used by a few people, so a wide range of adjustments and intuitiveness are crucial. They allow users to adjust the chair to their body size and shape quickly and precisely.
Marion Kurz
Product Manager, Nowy Styl Group Germany
Out of concern for well-being
We want to help our clients create the best workplaces possible and provide them with the latest ergonomic solutions. That's why we collaborate with the world's best designers, regularly monitor emerging possibilities and fit our products with new mechanisms that increase their comfort and functionality. Our Product Management and Product Implementation Departments are responsible for all of these activities.
Users' well-being is as important to us as their comfort, which is why we pay attention not only to our products, but also to the overall work environment. We survey organisations and advise our clients on acoustics, access to daylight, the number and type of office zones, etc. We also help them choose the right arrangement style to match the company, creating a talent-attracting atmosphere and increasing employees' satisfaction.
---